The Michael Caines Academy at Exeter College has trained some impressive chefs and hospitality workers in the South West, just like Rosie Nevill, an Exeter College Academy alumni. As part of a new blog series in collaboration with Exeter College, we had a chat with her about what she's been up to since she graduated.
"After graduating from the Academy I won South West Chef of the Year in the Student/Apprentice category in 2019 and I'm currently a finalist in the Young Professional category for 2022. I organised myself a series of work placements in a number of Michelin-starred establishments across the South West but fell in love with the first restaurant I worked in. It was there I met Josh Green, a true mentor and the biggest inspiration. I was fortunate enough to work alongside him very closely for the next 18 months whilst we ran the Chef's Table together."
What advice would you offer to someone who is wanting to become a part of the Michael Caines Academy?
"You don't have to be the best cook in the room. What will make you successful is your attitude. The chefs can teach you how to cook, but nobody can teach you how to care."
Where are you working now?
"After leaving Paul Ainsworth at No6 in January of this year, I have spent time travelling and organising a number of charity pop-ups and private events coupled with freelance work at festivals and other restaurants."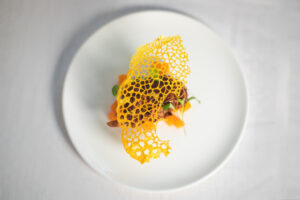 How did attending the MC Academy kickstart your career as a chef?
"The Academy provided me with a strong foundation in the industry. The quality of teaching is top class, but so are the extracurricular opportunities available to you; including restaurant visits, demonstrations and competitions. To this day I'm still in touch with a wide range of chefs and hospitality professionals that I met during my time at college. A very unique course in this respect and the only one of this kind I've come across to date."
What were your highlights when you were a student there?
"In my second year, we were taken on a visit to a woodland just outside of Exeter where I was given my first taste of mushroom foraging. From that point on I was hooked on all things wild food and it's becoming a small obsession of mine. What I'm sure was a pretty insignificant day to most, played a crucial part in shaping the direction of my career so far."
What are your goals as a chef?
"Despite being at the very beginning of my career, I have visions of building my own business over the next couple of years. Somewhere combining my love for foraged and homegrown produce, treated with the utmost respect & space for complete creative freedom. I am only interested in operating at a small scale and collaborating with people I really trust, so as to ensure every guest has an intimate experience."
Sound like something you're interested in? Why not join the Michael Caines Academy and experience the exceptional?