With World Oceans Day recently being celebrated on 8th June, we wanted to share with you what we do across the Michael Caines Collection to help preserve the health of the ocean and manage our carbon footprint. 
World Oceans Day supports collaborative conservation and works with its global network in 140 countries to provide free, actionable resources to encourage people to be more mindful of the environment. All sites across the Michael Caines Collection have a number of eco-friendly practices in place to help reduce the impact they have on the planet to promote the quality and availability of the ingredients used.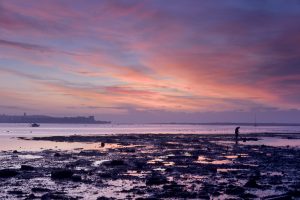 Michael is passionate about leaving the surroundings just as clean and healthy as he found them, a message that resonates greatly with the businesses in the collection. Both Mickeys Beach and Cafe Patisserie Glacerie are situated on the edge of Exmouth seafront where a two-mile stretch of beach is visited by thousands of people each week.
The teams regularly participate in beach cleans to help remove any sign of pollution, including single-use plastic items, cans, wrappers and more. Not only is the beach a part of the aesthetic, but the health of the marine life is also incredibly important as Mickeys is a huge champion of the seafood that is caught and landed in the local area. Cafe Patisserie Glacerie additionally launched their new reusable travel mug recently, a branded sustainable approach that is made using recycled coffee cups. They also have a discount initiative where every customer receives 25p off their hot drink if they use a reusable travel mug, to actively encourage people to steer away from the disposable single-use cup.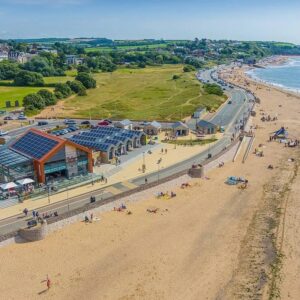 Not only that, but the building in which Cafe Patisserie Glacerie and Mickeys are located has an EPC rating of A/A+, something that only 3% of new builds in the UK achieved in 2021. The use of solar panels on the Sideshore roof helps to power the premises and all of the electronics inside, meaning they have a renewable and endless energy source.
All sites do their utmost to avoid any single-use plastics, working directly with their suppliers to reuse and recycle packaging wherever possible and aim to source and use biodegradable products more frequently. When visiting a venue in the Michael Caines Collection, you can dine easy knowing that you are supporting a business that is committed, passionate and determined to continue paving the way toward a sustainable future.